Gluten-Free Diet
Also indexed as:Avoiding Gluten, Contains No Gluten, Does Not Contain Gluten, Free of Gluten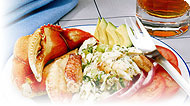 Resources for This Diet
Celiac Sprue Association/USA, Inc.
P.O. Box 31700
Omaha, NE 68131
www.csaceliacs.org
Gluten Intolerance Group of North America
15110 10th Avenue SW, Suite A
Seattle, WA 98166
www.gluten.net
The Gluten-Free Gourmet: Living Well Without Wheat by Bette Hagman, New York: Henry Holt and Co., 2000.
More from the Gluten-Free Gourmet: Delicious Dining Without Wheat by Bette Hagman, New York: Henry Holt and Co., 2000.
Celiac Disease and Gluten-Free Diet Support Page
www.celiac.com
Celiac Disease Foundation
13251 Ventura Boulevard, Suite 1
Studio City, CA 91604-1838 818-990-2354
www.celiac.org
Celiac Disease: A Hidden Epidemic by Peter H. Green and Rory Jones, New York: HarperCollins Publishers, 2006.
Gluten-Free Diet: A Comprehensive Resource Guide by Shelley Case, Regina, Sk CA: Case Nutrition Consulting, 2003. Available from www.glutenfreediet.ca
Gluten-Free 101: Easy, Basic Dishes Without Wheat by Carol Fenster, Centennial, CO: Savory Palate, 2003.
Wheat-Free, Gluten-Free Cookbook series by Connie Sarros. New York: McGraw-Hill, 2003–4.
The Gluten-Free Mall. Gluten-Free Foods for Celiac Disease and Special Diets. www.glutenfreemall.com
Gluten-Free Diet Guide for Families by The Children's Digestive Health & Nutrition Foundation and The North American Society for Pediatric Gastroenterology, Hepatology, and Nutrition, 2005. Available at www.naspghan.org/assets/diseaseInfo/pdf/GlutenFreeDietGuide-E.pdf
Gluten in Pharmaceutical Products by Sister Jeanne Patricia Crowe and Nancy Patin Falini. Am J Health-Syst Pharm 2001;58:396–401. Available at www.medscape.com/viewarticle/406948
Bibliography
Baker PG, Read AE. Reversible infertility in male coeliac patients. Br Med J 1975;2:316–7.
Bazex A, Gaillet L, Bazex J. Gluten-free diet and psoriasis. Ann Dermatol Syphiligr 1976;103:648–50 [in French].
Chorzelski TP, Rosinska D, Beutner E, et al. Aggressive gluten challenge of dermatitis herpetiformis cases converts them from seronegative to seropositive for IgA-class endomysial antibodies. J Am Acad Dermatol 1988;18:672–8.
Crowe JP, Falini NP. Gluten in pharmaceutical products. Am J Health-Syst Pharm 2001;58:396–401.
Davis C. Dietary pathogenesis of schizophrenia: an investigation into the effects of gluten. Nurs Times 1978;74:2020–1.
Dohan FC, Grasberger JC. Relapsed schizophrenics: earlier discharge from the hospital after cereal-free, milk-free diet. Am J Psychiatry 1973;130:685–8.
Douglas JM. Psoriasis and diet. West J Med 1980;133:450 [letter].
Faulkner-Hogg KB, Selby WS, Loblay RH. Dietary analysis in symptomatic patients with coeliac disease on a gluten-free diet: the role of trace amounts of gluten and non-gluten food intolerances. Scand J Gastroenterol 1999;34:784–9.
Ferguson A, Blackwell JN, Barnetson RS. Effects of additional dietary gluten on the small-intestinal mucosa of volunteers and of patients with dermatitis herpetiformis. Scand J Gastroenterol 1987;22:543–9.
Fry L. Dermatitis herpetiformis. Baillieres Clin Gastroenterol 1995;9:371–93 [review].
Garioch JJ, Lewis HM, Sargent SA, et al. 25 years' experience of a gluten-free diet in the treatment of dermatitis herpetiformis. Br J Dermatol 1994;131:541–5.
Greenberger JN, Isselbacher KJ. Disorders of absorption. In Fauci AS, Braunwald E, Isselbacher KJ, et al, eds. Harrison's Principles of Internal Medicine, 14th ed. New York: McGraw-Hill, 1998, Chapter 285.
Hall K. Allergy of the nervous system: a review. Ann Allergy 1976;36:49–64 [review].
Hall RP. Dietary management of dermatitis herpetiformis. Arch Dermatol 1987; 123:1378a–1380a.
Hardman CM, Garioch JJ, Leonard JN, et al. Absence of toxicity of oats in patients with dermatitis herpetiformis. N Engl J Med 1997; 337(26):1884–7.
Hill ID, Dirks MH, Liptak GS, et al. North American Society for Pediatric Gastroenterology, Hepatology and Nutrition. Guideline for the diagnosis and treatment of celiac disease in children: recommendations of the North American Society for Pediatric Gastroenterology, Hepatology and Nutrition. J Pediatr Gastroenterol Nutr 2005;40:1–19.
Holmes GKT, Prior P, Lane MR, et al. Malignancy in coeliac disease—effect of a gluten free diet. Gut 1989;30:333–8.
Janatuinen EK, Pikkarainen PH, Kemppainen TA, et al. A comparison of diets with and without oats in adults with celiac disease. N Engl J Med 1995;333:1033–7.
Kadunce DP, McMurry MP, Avots-Avotins A, et al. The effect of an elemental diet with and without gluten on disease activity in dermatitis herpetiformis. J Invest Dermatol 1991;97:175–82.
Kety SS. Dietary factors and schizophrenia. Ann Intern Med 1976;84:745 [editorial].
Kjeldsen­Kragh J, Haugen M, Borchgrevink CF, et al. Controlled trial of fasting and one­year vegetarian diet in rheumatoid arthritis. Lancet 1991;338:899–902.
Kosnai I, Karpati S, Savilahti E, et al. Gluten challenge in children with dermatitis herpetiformis: a clinical, morphological and immunohistological study. Gut 1986;27:1464–70.
McFarlane XA, Bhalla AK, Robertson DAF. Effect of a gluten free diet on osteopenia in adults with newly diagnosed coeliac disease. Gut 1996;39:180–4.
Michaelsson G, Gerden B. How common is gluten intolerance among patients with psoriasis? Acta Derm Venereol 1991;71:90.
Michäelsson G, Gerdén B, Hagforsen E, et al. Psoriasis patients with antibodies to gliadin can be improved by a gluten-free diet. Br J Dermatol 2000;142:44–51.
Mora S, Barera G, Ricotti A, et al. Reversal of low bone density with a gluten-free diet in children and adolescents with celiac disease. Am J Clin Nutr 1998;67:477–81.
National Digestive Diseases Information Clearinghouse. Celiac Disease. NIH Publication No. 06–4269. National Institutes of Health, October 2005.
Nellen H, Flores G, Wacher N. Treatment of human immunodeficiency virus enteropathy with a gluten-free diet. Arch Intern Med 2000;160:244 [letter].
Potkin SG, Weinberger D, Kleinman J, et al. Wheat gluten challenge in schizophrenic patients. Am J Psychiatry 1981;138:1208–11.
Reichelt KL, Landmark J. Specific IgA antibody increases in schizophrenia. Biol Psychiatry 1995;37:410–3.
Reunala T, Kosnai I, Karpati S, et al. Dermatitis herpetiformis: jejunal findings and skin response to gluten free diet. Arch Dis Child 1984; 59:517–22.
Ross-Smith P, Jenner FA. Diet (gluten) and schizophrenia. J Hum Nutr 1980;34:107–12 [review].
Singh MM, Kay SR. Wheat gluten as a pathogenic factor in schizophrenia. Science 1976;191:401–2.
Srinivassan U, Leonard N, Jones E, et al. Absence of oats toxicity in adult coeliac disease. BMJ 1996;313:1300–1.
Storms LH, Clopton JM, Wright C. Effects of gluten on schizophrenics. Arch Gen Psychiatry 1982;39:323–7.
Thompson T. Oats and the gluten-free diet. J Am Diet Assoc 2003;103:376–9.
Thompson T. Wheat starch, gliadin, and the gluten-free diet. J Am Diet Assoc 2001;101:1456–9.
van der Meer JB, Zeedijk N, Poen H, van der Putte SC. Rapid improvement of dermatitis herpetiformis after elemental diet. Arch Dermatol Res 1981;271:455–9.
Vlissides DN, Venulet A, Jenner FA. A double-blind gluten-free/gluten-load controlled trial in a secure ward population. Br J Psychiatry 1986;148:447–52.
Yancy KB, Lawley TJ. "Immunologically Mediated Skin Diseases." Harrison's Online. 1999. (accessed January 10, 2000).
Zeedijk N, van der Meer JB, Poen H, van der Putte SC. Dermatitis herpetiformis: consequences of elemental diet. Acta Derm Venereol 1986;66:316–20.
Copyright © 2017 Healthnotes, Inc. All rights reserved. www.healthnotes.com
Learn more about Healthnotes, the company.
The information presented by Healthnotes is for informational purposes only. It is based on scientific studies (human, animal, or in vitro), clinical experience, or traditional usage as cited in each article. The results reported may not necessarily occur in all individuals. Self-treatment is not recommended for life-threatening conditions that require medical treatment under a doctor's care. For many of the conditions discussed, treatment with prescription or over the counter medication is also available. Consult your doctor, practitioner, and/or pharmacist for any health problem and before using any supplements or before making any changes in prescribed medications. Information expires December 2017.