Your Best Organic Bets
Produce that should top your shopping list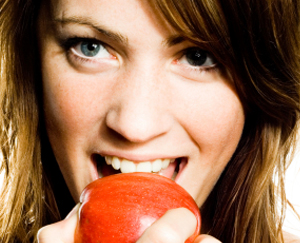 Those not up to buying organic everything can still benefit their families' health by concentrating on where they get the most bang for the buck
When considering your produce, remember that nine out of ten Americans do not eat the recommended 2 portions of fruit and 2 1/2 portions of vegetables each day. So your first step might be to simply incorporate more fruits and vegetables into your diet. However, with all the headlines about pesticides, hormones, antibiotics, and other food-safety issues, many people are considering organic options more often. 
While more research is needed for confirmation, "some evidence suggests that organic produce may contain more vitamins, minerals, and other beneficial plant compounds than conventionally grown produce," says Dawn Jackson Blatner, RD, the national media spokesperson for the American Dietetic Association in Chicago. In any case, in addition to the advantage of lower pesticide levels, organically grown producs is also Earth-friendly: sustainable organic farming enhances the soil and conserves water—a boon to all of us in the long term.
Rules of thumb
Those not up to buying organic everything can still benefit their families' health by concentrating on where they get the most bang for the buck. When considering where your organic dollars may be put to best use, it can be helpful to remember a rule of thumb suggested by Dr. Oz:
Potatoes are often sprayed with pesticides and grown in soil treated with fungicides, so it's a double whammy.
Peppers and celery are spongy, so they easily absorb pescticides that washing and peeling won't remove.
And leafy greens like lettuce, spinach, and collard greens are sprayed heavily with pesticides.
Remember, the important thing is to get what fruits and veggies you can into your home. If they're within reach—such as in your fridge or in a fruit bowl on the dining room table—you're more likely to eat more. And eating more fruits and vegetables may well be more important to your health bottom line than avoiding pesticides. Counsels Blatner, "Consume the minimum recommended amount every day—no matter how it's grown!"
Nancy Gottesman, a freelance health and nutrition writer, buys organic strawberries every week in Los Angeles, California. Apples and grapes are next on her organic to-do list!