Vegetarian Diet
Also indexed as:Vegan Diet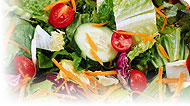 Resources for This Diet
The Vegetarian Resource Group
PO Box 1463
Baltimore, MD 21203
www.vrg.org
Vegan Outreach
211 Indian Drive
Pittsburgh, PA 15238
www.veganoutreach.org
Physicians Committee for Responsible Medicine
PO Box 6322
Washington, DC 20015
The Vegetarian Nutrition and Health Letter
1711 Nichol Hall
School of Public Health
Loma Linda University
Loma Linda, CA 92350
The Vegetarian Way: Total Health for You and Your Family by Virginia Messina and Mark Messina. New York: Crown Trade Paperbacks, 1996.
Becoming Vegetarian: The Complete Guide to Adopting a Healthy Vegetarian Diet by Vesanto Melina, Brenda Davis, and Victoria Harris. Summertown, TN: Book Publishing Co., 1995.
Being Vegetarian for Dummies by Suzanne Havala. New York: Hungry Minds, Inc., 2001.
Simply Vegan: Quick Vegetarian Meals by Debra Wasserman and Reed Mangels. Baltimore, MD: Vegetarian Resource Group, 1999.
Lorna Sass' Complete Vegetarian Kitchen: Where Good Flavors and Good Health Meet by Lorna J. Sass. New York: Hearst Books, 1995.
Vegetarian Cooking for Everyone by Deborah Madison. New York: Broadway Books, 1997.
May All Be Fed: A Diet for a New World by John Robbins and Jia Patton. New York: Avon Books, 1993.
Bibliography
Ascherio A, Willett WC, Rimm EB, et al. Dietary iron intake and risk of coronary disease among men. Circulation 1994;89:969–74.
Bairati I, Meyer F, Fradet Y, Moore L. Dietary fat and advanced prostate cancer. J Urol 1998;159:1271–5.
Bingham SA, Pignatelli B, Pollock JR, et al. Oxidative DNA damage levels in blood from women at high risk for breast cancer are associated with dietary intakes of meats, vegetables, and fruits. J Am Diet Assoc 1998;98:524–8.
Craig WJ. Phytochemicals: Guardians of our health. J Am Diet Assoc 1997;97:S199–S204.
Steinmetz KA, Potter JD. Vegetables, fruit, and cancer. II. Mechanisms. Cancer Causes Control 991;2:427–42.
Glore SR, Van Treeck DV, Knehans AW, Guild M. Soluble fiber and serum lipids: A literature review. J Am Diet Assoc 1994;94:425–36.
Heaton KW. Diet and diverticulosis: New leads. Gut 1986;26:541–3.
Hill MJ. Cereals, cereal fibre and colorectal cancer risk: a review of the epidemiological literature. Eur J Cancer Prev 1998;7:S5–10.
Jacobsen BK, Knutsen SF, Fraser GE. Does high soy milk intake reduce prostate cancer incidence? The Adventist Health Study (United States). Cancer Causes Control 1998;9:553–7.
Jeppesen J, Schaaf P, Jones C, et al. Effects of low-fat, high carbohydrate diets on risk factors for IHD in postmenopausal women. Am J Clin Nutr 1997;65:1027–33.
Korpela JT, Adlercreutz H, Turunen MJ. Fecal free and conjugated bile acids and neutral sterols in vegetarians, omnivores, and patients with colorectal cancer. Scand J Gastroenterol 1988;23:277–83.
Majchrzak D, Singer I, Manner M, et al. B-vitamin status and concentrations of homocysteine in austrian omnivores, Vegetarians and Vegans. Ann Nutr Metab 2006;50:485–91.
Messina MJ, Messina V. The Dietitians Guide to Vegetarian Diets: Issues and Applications. Aspen Publishers: Gaithersburg, MD: Aspen Publishers, 1996.
Nelson RL, Davis FG, Sutter E, et al. Body iron stores and risk of colonic neoplasia. J Natl Cancer Inst 1994;86:455–60.
Nguyen JY, Major JM, Knott CJ, et al. Adoption of a plant-based diet by patients with recurrent prostate cancer. Integr Cancer Ther 2006;5:214–23.
Olbina G, Miljkovic D, Hoffman RM, Geller J. New sensitive discovery histoculture model for growth-inhibition studies in prostate cancer and BPH. Prostate 1998;37:126–9.
Ophir O, Peer G, Giland J, Blum M, Aviram A. Low blood pressure in vegetarians: the possible role of potassium. Am J Clin Nutr 1983;37:755–62.
Reddy BS, Sharma C, Wynder E. Fecal factors which modify the formation of fecal co-mutagens in hgh and low-risk population for colon cancer. Cancer Lett 1980;10:123–32.
Resnicow K, Barone J, Engle A, et al. Diet and serum lipids in vegan vegetarians: A model for risk reduction. J Am Diet Assoc 1991;91:447–53.
Rouse IL, Armstrong BK, Beilin. The relationship of blood pressure to diet and lifestyle in two religious populations. J Hypertesn 1983;1:65–71.
Rouse IL, Armstrong BK, Beilin LJ, Vandongen R. Blood pressure lowering effect of a vegetarian diet: controlled trial in normotensive subjects. Lancet 1983;1:5–9.
Sacks FM, Castelli WP, Donner A, Kass EH. Plasma lipids and lipoproteins in vegetarians and controls. N Engl J Med 1975;292:1148–51.
Sebekova K, Boor P, Valachovicova M, et al. Association of metabolic syndrome risk factors with selected markers of oxidative status and microinflammation in healthy omnivores and vegetarians. Mol Nutr Food Res 2006;50:858–68.
Smith AM. Veganism and osteoporosis: a review of the current literature. Int J Nurs Pract 2006;12:302–6 [review].
Van Faassen A, Bol J, van Dokkum W, et al. Bile acids, neutral steroids, and bacteria in feces as affected by a mixed, a lacto-ovovegetarian, and a vegan diet. Am J Clin Nutr 1987;46:962–7.
Weaver CM, Plawecki KL. Dietary calcium: adequacy of a vegetarian diet. Am J Clin Nutr 1994; 59:1238S–41S.
Copyright © 2014 Aisle7. All rights reserved. Aisle7.com
Learn more about Aisle7, the company.
Learn more about the authors of Aisle7 products.
The information presented in Aisle7 is for informational purposes only. It is based on scientific studies (human, animal, or in vitro), clinical experience, or traditional usage as cited in each article. The results reported may not necessarily occur in all individuals. Self-treatment is not recommended for life-threatening conditions that require medical treatment under a doctor's care. For many of the conditions discussed, treatment with prescription or over the counter medication is also available. Consult your doctor, practitioner, and/or pharmacist for any health problem and before using any supplements or before making any changes in prescribed medications. Information expires June 2015.