Low Back Pain
Also indexed as:Backache, Back Strain, Herniated Disc, Sciatica, Slipped Disc
Get real relief from low back pain. Strengthen your lower back with regular exercise and good nutrition. According to research or other evidence, the following self-care steps may be helpful.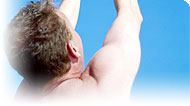 About This Condition
The low back supports most of the body's weight, and as a result, is susceptible to pain caused by injury or other problems. Over 80% of adults experience low back pain (LBP) sometime during their life.1 More than half will have a repeat episode.
It is often difficult to pinpoint the root of low back pain, though poor muscle tone, joint problems, and torn muscles or ligaments are common causes. A herniated or slipped disc may also cause low back pain as well as sciatica, a condition where pain travels down one or both buttocks and/or legs.
Standing or sitting for extended periods, wearing high heels, and being sedentary increase the risk of developing low back pain, as do obesity and back strain due to improper lifting. Up to half of pregnant women experience some low back pain.2 Long hours spent driving a car may contribute to a herniated disc.3 This is possibly due to the vibration caused by the car.4
Many people with low back pain recover without seeing a doctor or receiving treatment. Up to 90% recuperate within three to four weeks,5 though recurrences are common,6, 7, 8 and chronic low back pain develops in many people.9 Low back pain is considered acute, or short-term, when it lasts for a few days up to many weeks. Chronic low back pain refers to any episode that lasts longer than three months.
While low back pain is rarely life threatening, it is still important to have chronic or recurring back pain assessed by a healthcare professional. Potentially serious causes include spinal tumor, infection, fracture, nerve damage, osteoporosis, arthritis, or pain caused by conditions found in internal organs such as the kidneys.
Symptoms
Low back pain may be a steady ache or a sharp, acute pain that is worse with movement.
Healthy Lifestyle Tips
A review of clinical trials concluded that treating low back pain with spinal manipulation (chiropractic or osteopathic treatment) is as effective as, or more effective than, other common approaches, such as physical therapy, medication, and exercise.10, 11, 12
Preliminary data indicate that smoking may contribute to low back pain.13 One survey of over 29,000 people reported a significant association between smoking and low back pain.14 Smaller people (children, women, those who weigh less) are most affected. A study involving people with herniated discs found that both current and ex-smokers are at much higher risk of developing disc disease than nonsmokers.15 Other research reveals 18% greater disc degeneration in the lower spines of smokers compared with nonsmokers.16 Smoking is thought to cause malnutrition of spinal discs, which in turn makes them more vulnerable to mechanical stress.17
One survey reported that people who drank wine healed more quickly after disc surgery in the lower back than those who abstained.18 However, alcohol consumption may cause cirrhosis of the liver, cancer, high blood pressure, and alcoholism. As a result, many doctors never recommend alcohol even though moderate consumption has been linked to some health benefits. For those deciding whether light drinking might help with recovery from disc surgery, it is best to consult a doctor.
Regular exercise and proper lifting techniques help prevent low back problems from developing. Proper lifting involves keeping an object close to the body and avoiding bending forwarding, reaching, and twisting while lifting. Low back pain and disc degeneration are both more likely to develop among sedentary people than those who are physically active.19 However, long-term participation in some competitive sports may contribute to spinal disc degeneration.20
Therapeutic exercise helps people recover from low back pain21 and low back surgery.22 Less clear are details about how this should be done for greatest benefit. In other words, the best type of exercise, frequency, duration, and timing of a program still need to be determined. One study reported therapeutic exercise significantly improved chronic low back pain compared to exercise performed at home without professional guidance.23 Another trial discovered that women with chronic low back pain who began supervised back strengthening exercises at a fitness center were more consistent exercisers than those who started and continued therapeutic exercises at home.24 Both groups experienced significant improvement in pain. However, the supervised group experienced better long-term improvement.
While heavy lifting and other strenuous labor may contribute to low back pain, one trial found that people with sedentary jobs gained more benefit from an exercise program than those who have physically hard or moderate occupations.25 Motivational programs may also improve exercise consistency, which in turn decreases pain and disability.26 People with low back pain who wish to embark on an exercise program should first consult with a physical therapist or other practitioner skilled in this area.
Supervised bed rest, for two to four days, coupled with appropriate physical therapy and therapeutic exercise, is often recommended by medical doctors for acute low back pain.27 However, reviews of bed rest recommendations have concluded that bed rest is, at best, ineffective and may even delay recovery.28, 29 It is better to try to stay active and maintain a normal daily schedule as much as possible.
General recommendations for people recuperating from low back pain include wearing low-heeled comfortable shoes, sitting in chairs with good lower back support, using work surfaces that are a comfortable height, resting one foot on a low stool if standing for long periods, and supporting the low back during long periods of driving.30
Holistic Options
Acupuncture may be helpful in the treatment of low back pain in some people. Case reports31, 32 and numerous preliminary trials33, 34, 35, 36, 37, 38, 39 have described significant improvement in both acute and chronic back pain following acupuncture (or acupuncture with electrical stimulation) treatment. In a single controlled study of acute back pain, both electroacupuncture and drug therapy (acetaminophen) led to statistically significant pain reduction and improved mobility.40
Several controlled clinical trials have evaluated acupuncture for chronic low back pain. A controlled trial found acupuncture was significantly superior to placebo (fake electrical stimulation through the skin) in four of five measures of pain and physical signs.41 Controlled trials using electroacupuncture have reported either benefit42 or no benefit43 for chronic back pain. A double-blind trial compared acupuncture to injections of anesthetic just below the skin at non-acupuncture points, and found no difference in effect between the two treatments.44 Controlled trials have compared acupuncture to transcutaneous nerve stimulation (TENS). Some,45, 46 though not all,47 demonstrated greater pain relief with acupuncture when compared to TENS, and one found improved spinal mobility only with acupuncture.48
In one preliminary trial, acupuncture relieved pain and diminished disability in the low back during pregnancy better than physiotherapy.49
A recent analysis and review of studies reported acupuncture was effective for low back pain,50 though another recent review concluded acupuncture could not be recommended due to the poor quality of the research.51 A third review concluded that acupuncture was beneficial for people with slipped discs and sciatica and could be recommended at the very least as a supplementary therapy.52 Since the vast majority of controlled acupuncture research addresses chronic low back pain, it remains unknown whether people with acute low back pain benefit significantly from acupuncture.53
The federally funded Agency for Health Care Policy and Research has deemed spinal manipulation effective for acute low back pain during the first month following injury.54 This recommendation is supported by other research, though some has not been well controlled.55, 56 People whose initial pain or disability is severe to moderate appear to benefit the most, though those with longer lasting or chronic pain may also be helped by spinal manipulation.57, 58 One 12-month controlled study found no difference in benefit between manipulation and standard physical therapy.59 Another controlled study found a series of eight treatments with spinal manipulation was as effective as conventional medical therapy, but the manipulation group needed less pain medication and physical therapy.60 Practitioners who perform spinal manipulation include chiropractors, some osteopaths, and some physical therapists.
Some researchers suggest that spinal manipulation should not be performed on people with a herniated (slipped) disc, because it may lead to spinal cord injuries.61 However, other preliminary trials report that spinal manipulation helps those with herniated discs,62, 63, 64, 65 as did one controlled study comparing manipulation to standard physical therapy.66 In one investigation of 59 people with slipped discs who received chiropractic treatment, including manipulation, 90% reported improvement.67 Those with a history of low back surgery had poor outcomes. People with LBP due to herniated discs who wish to try this method should first consult with a chiropractor or other physician skilled in spinal manipulation. A recent controlled study compared manipulation, acupuncture, and medication for chronic spinal pain. Only manipulation significantly improved pain and disability scores.68
There is inconclusive evidence that massage alone helps people with low back pain, though preliminary research indicates it has potential.69 Many practitioners use massage in combination with other physical therapies, such as spinal manipulation or therapeutic exercise. People with low back pain who want to try massage should consult with a qualified massage therapist.
Some controlled trials indicate that biofeedback benefits people with chronic low back pain,70, 71 but other trials do not.72, 73 One study found that biofeedback was more effective than behavioral therapy or conservative medical treatment for people with chronic back pain. The study also found biofeedback to be the only method where people experienced significant reduction in pain for up to the two years of follow-up.74 People wishing to try biofeedback should discuss this method with a qualified practitioner.
Emotional distress has been associated with aggravating low back pain,75 including that caused by a herniated disc.76 The effects on back pain of counseling aimed at reducing emotional stress remain unknown, though it is used in some clinics employing multidisciplinary approaches to treating chronic lower back pain.
Copyright © 2017 Healthnotes, Inc. All rights reserved. www.healthnotes.com
Learn more about Healthnotes, the company.
The information presented by Healthnotes is for informational purposes only. It is based on scientific studies (human, animal, or in vitro), clinical experience, or traditional usage as cited in each article. The results reported may not necessarily occur in all individuals. Self-treatment is not recommended for life-threatening conditions that require medical treatment under a doctor's care. For many of the conditions discussed, treatment with prescription or over the counter medication is also available. Consult your doctor, practitioner, and/or pharmacist for any health problem and before using any supplements or before making any changes in prescribed medications. Information expires December 2017.