Healthnotes Books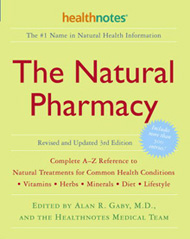 The Natural Pharmacy
3rd Edition (Three Rivers Press, 2006), by Alan Gaby, MD, and the Healthnotes Medical Team
Written by some of the world's most respected natural health experts, The Natural Pharmacy offers timely, practical, fully integrated advice on treating troublesome conditions the natural way. Inside you will find complete coverage of the most common health concerns with useful treatments based on reliable, up-to-date research.
Healthnotes trusted healthy, food, and lifestyle information is available throughout the United States and United Kingdom.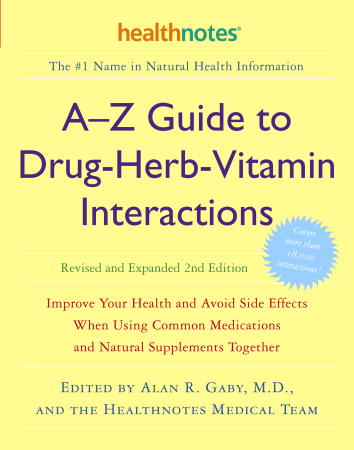 A-Z Guide to Drug-Herb-Vitamin Interactions
2nd Edition (Three Rivers Press, 2006), by Alan Gaby MD, and the Healthnotes Medical Team
Written by a team of experts from the fields of medicine, pharmacy, naturopathy, and public health, the A–Z Guide to Drug-Herb-Vitamin Interactions covers the ways in which common prescription and over-the-counter drugs interact with herbs, vitamins, and foods. Information includes potential nutrient depletions, interference with drug actions, reduction of drug side effects, and interference with drug absorbtion (bioavailability) when taking herbs, nutritional supplements, or foods with certain medications. Learn how some herbs and vitamins help drugs work better, learn which drugs and supplements should never be taken together, and learn which drug side effects can be reduced by taking the right vitamin or herb.