Women's Heart Health and Carb Control
Lauren

/

Jun 6th, 2014
Carbs and Heart Disease: New News for Women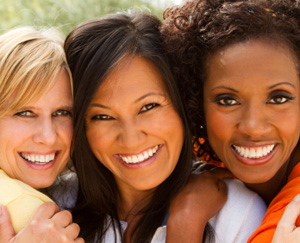 Glycemic loads for whole grains and whole grain products are generally lower than those for white flour products
A new study published in the Archives of Internal Medicine found that eating lots of high-glycemic-index foods puts women at higher risk of developing heart disease. The glycemic index is an indicator of how high the carbohydrate portion of a food causes blood sugar (glucose) to rise. The index was developed to help people with diabetes better manage their blood glucose levels. Poor blood sugar control is now recognized as a risk factor for heart disease, even in people without the disease.
Carbohydrates and heart disease
Researchers in Italy followed more than 47,000 people for an average of almost eight years. Diet questionnaires completed at the beginning of the study assessed the amount of carbohydrates and high-glycemic-index and low-glycemic-index foods in the participants' diets, and their overall dietary glycemic load (another measure of the effects of diet on blood sugar levels). The researchers noted the following:
Women with the highest carbohydrate intake were twice as likely to develop heart disease during the study as women with the lowest intake.
Only high-glycemic-index carbohydrates were associated with heart disease risk; low-glycemic-index carbohydrates were not.
Having a high dietary glycemic load more than doubled the risk of heart disease in women.
No relationship between heart disease and carbohydrate intake, high-glycemic index food consumption, or dietary glycemic load was seen in men.
Not all carbs are created equal
While these findings show that a high-carbohydrate diet can put women at risk for heart disease, it is important to note that complex, low-glycemic-index carbohydrates are not the culprits.
"Our finding that only carbohydrates from high-glycemic-index foods increased cardiac risk suggests that the quality of the carbohydrates is more important than the amount when it comes to preventing heart disease," said study co-author Dr. Vittorio Krogh of the Fondazione IRCCS Istituto Nazionale dei Tumori in Milan, Italy.
Reducing your glycemic load
Keeping in mind that high-calorie, high-carbohydrate foods with high-glycemic-index values raise the dietary glycemic load and increase women's heart disease risk, here are some tips to help women choose heart-healthy carbohydrates:
Whole is best. Processed carbohydrates are easier for the body to convert to blood glucose, and therefore have higher glycemic index values than their whole-food sources.
Fruits and vegetables generally have a low glycemic load, but the load goes up when they are dried or juiced.
Glycemic loads for whole grains and whole grain products are generally lower than those for white flour products, white rice, and grains processed in order to be prepared "instantly."
Beans, lentils, nuts, and seeds are good for the heart and good for keeping your glycemic load down.
(Arch Intern Med 2010;170:640–7)
Maureen Williams, ND, received her bachelor's degree from the University of Pennsylvania and her Doctorate of Naturopathic Medicine from Bastyr University in Seattle, WA. She has a private practice on Cortes Island in British Columbia, Canada, and has done extensive work with traditional herbal medicine in Guatemala and Honduras. Dr. Williams is a regular contributor to Healthnotes Newswire.