Flu vaccine highly effective this year!
Lauren

/

Dec 29th, 2015
I Haven't Gotten a Flu Shot. Should I Be Worried?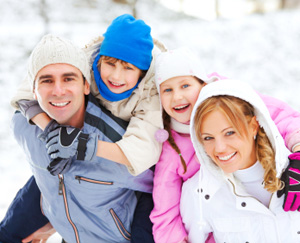 If you have a fever above 100 degrees, body aches, dizziness, nausea, vomiting, diarrhea, chills, or fatigue, call your doctor
The Centers for Disease Control and Prevention announced this week that
flu
season has been particularly bad for young adult and middle-aged people this year, primarily due to the notorious H1N1 virus (the so-called "swine flu") that got so much attention in 2009. If you didn't get a shot and think you waited too long, don't worry: the CDC advises it's not too late, and recommends that anyone over six months old get a
vaccine
. The CDC also announced that this year's vaccine is 61% effective, which is considered good, and up from much lower numbers the last several years.
Arm Yourself for the Flu Fight
Whether you get a shot or not, protect your immune system with these simple steps:
Practice immune-system-supporting habits. Wash your hands frequently and use a hand sanitizer when you can't get to a sink. Get adequate sleep (around eight hours per night), and avoid touching your eyes, nose, and mouth during the day.
Stay on top of stress. Emotional, mental, and extreme physical stress can increase susceptibility to infections. Enjoy social time with supportive friends, and engage in regular, moderate physical activity to minimize stress and promote health.
Find the right friendly bugs. Certain probiotics have been shown to support immune function, helping the body stay more resistant to infection. For example, a study found that Lactobacillus and Bifidobacterium probiotic strains may shorten a cold's duration and may even boost the effectiveness of a flu vaccine.
Give vitamins C & D a try. Though we don't know for sure that it's preventive, studies have found taking

vitamin C

during a cold may reduce its duration and severity. The RDA for vitamin C is 200 mg per day for most people. Some healthcare professionals believe the RDA will prevent deficiencies and related conditions but that for therapeutic support 1,000 to 2,000 mg per day should be used. Low

vitamin D

levels have been linked to increased susceptibility to colds and other infections. An extra 1,000 to 2,000 IU per day in winter is safe and reasonable.
Gargle & rinse. A daily practice of gargling with plain water can keep your risk of colds down, and a traditional "neti pot" (sterilize before using) or any nasal saline rinse can help flush out bacteria or virus from your sinuses.
Know your illness. Colds and the flu (influenza) tend to peak around the same time of year, but influenza is much more serious. If you have a fever above 100 degrees, body aches, dizziness, nausea, vomiting, diarrhea, chills, or fatigue, call your doctor and ask what steps you can take to support your body through the flu.
Chris Turf, RPh, trained at the University of Colorado in Boulder, where he earned his pharmaceutical degree and received the University of Colorado Clinical Pharmacist Award. Mr. Turf studied prescription compounding at the Professional Compounding Center of America (PCCA) and has also extensively studied integrative therapies, such as herbal medicine, nutrition, and homeopathy. He is a contributor to Aisle7 In-Store and Aisle7 Online, and to the Healthnotes Newswire.