Link between Olive Oil and Heart Disease
Lauren

/

Feb 4th, 2016
Olive Oil's Potentially Positive Heart Health Effects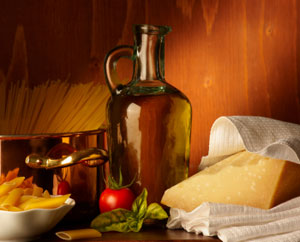 Olive oil has become well known as a "healthy" fat when included as part of a balanced and healthy diet
Olive oil
, when included in a healthy diet, has been linked to important health benefits, and now a study in
Clinical Nutrition
suggests that a daily dose of olive oil may be one important dietary option for
heart and vascular disease
prevention.
Olive oil may reduce heart disease risk factors
Prior studies have suggested that plant chemicals in olive oil, known as polyphenols, may help reduce risk factors for heart disease. This study looked at a particular aspect of that protection: the effect of olive oil on blood fats (lipids).
In this study, 200 healthy men were randomly assigned to three, three-week interventions of 25 ml per day of olive oil with low (2.7 mg per kg), medium (164 mg per kg), or high (336 mg per kg) content of olive oil polyphenols. Blood levels of various markers were measured before and after each intervention.
Results showed that, particularly at the higher amounts of polyphenols, participants who ate a little olive oil each day potentially reduced a toxic form of LDL ("bad") cholesterol, which may lower their risk of heart and vascular disease.
"Our results provide further support to recommend the use of polyphenol-rich olive oil as a source of fat," said Olga Castaner and colleagues from the Research Institute Hospital del Mar, Barcelona, Spain.
It is important to point out, however, that it is not clear from studies to date whether the endpoint measured in this study is truly predictive of heart disease risk, and further research is needed to understand the role of olive oil in heart and vascular health.
Benefits of olive oil
Olive oil has become well known as a "healthy" fat and when included as part of a balanced and healthy diet has been linked to important health benefits including improved cholesterol levels and blood sugar control.
Olive oil is a good source of monounsaturated fat, which research suggests is a better dietary option compared with saturated or trans fats, which increase your risk for chronic disease. Too much of any type of fat, however, is not good as oils are high in calories, so olive oil should be used in moderation.
When buying olive oil, choose virgin or extra-virgin olive oils, which are unrefined and retain more of the healthful contents.
A healthy diet is one important part of preventing heart and vascular disease and choosing healthy fats—such as olive oil—over unhealthy fats may be a step toward better health. Talk with a doctor about what else you can be doing to prevent heart and vascular disease based on your health history.
(Clinical Nutrition 2011;30:490–3)
Jane Hart, MD, board-certified in internal medicine, serves in a variety of professional roles including consultant, journalist, and educator. Dr. Hart, a Clinical Instructor at Case Medical School in Cleveland, Ohio, writes extensively about health and wellness and a variety of other topics for nationally recognized organizations, websites, and print publications. Sought out for her expertise in the areas of integrative and preventive medicine, she is frequently quoted by national and local media. Dr. Hart is a professional lecturer for healthcare professionals, consumers, and youth and is a regular corporate speaker.