Eat Well to Age Well
Lauren

/

Jun 30th, 2016
Eat Well to Age Well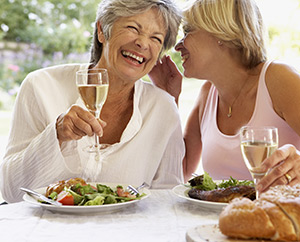 Women who maintained a healthy diet as they aged were more likely to have good mental health and no major physical limitations
Life expectancy in the Western world has reached impressive levels, and now health experts are focused on figuring out how to keep people vibrant as they age. To that end, research evidence suggests a healthy diet in mid-life is one key to healthy aging.
Healthy vs. usual aging
Researchers used the long-running Nurses Health Study to gather diet and health information from 10,670 women in their late 50s and early 60s at the time of data collection (from 1984 to 1986). None of the women had major chronic diseases at the start of the study. Additional health information was collected approximately 15 years later.
Researchers defined "healthy" and "usual" aging, and considered women "healthy agers" if they:
survived to age 70 or older,
remained free of 11 chronic diseases, such as heart disease, cancer, and type 2 diabetes,
had no impairments in thinking ability (cognition),
had no physical disabilities, and
maintained good mental health.
Women not meeting these criteria were considered "usual agers."
Two measures of diet quality were considered: the Alternative Healthy Eating Index-2010, and the Alternative Mediterranean Diet score. These look at diet choices associated with better health, such as eating more vegetables, fruit, whole grains, nuts, and legumes; eating more omega-3 and monounsaturated fats; eating fish regularly; using alcohol in moderation (up to one drink per day); and minimizing the amount of red and processed meats, sugar-sweetened beverages, and salt (sodium) in the diet.
Time + healthy diet = healthy aging
After 15 years, the researchers found several indications of how eating affects aging:
Women with the best Alternative Healthy Eating Index scores were 34% more likely to be healthier agers compared with women who scored poorly on this measurement.
Women with the best Alternative Mediterranean Diet scores were 46% more likely to be healthy agers compared with women who had low Alternative Mediterranean Diet scores.
Women scoring the best on both the Alternative Healthy Eating Index and the Alternative Mediterranean Diet measurements were significantly more likely to have no major physical limitations and to have good mental health.
Reframing your goals, healthier aging
While this study is observational, and therefore cannot prove cause and effect, it agrees with dozens of other studies on diet and health. According to lead study author Cecilia Samieri, PhD, "Midlife exposures are thought to be a particularly relevant period," and most health conditions develop slowly over many years.
Use these tips to make the best choices today, for better health tomorrow.
Reframe goals. Health-focused goals, such as lowering cholesterol and blood pressure, or improving fitness, rather than "cosmetic" goals—say, fitting into smaller jeans—are more likely to lead to success.
Adopt behavior-based strategies. Instead of, "I'll eat better," set a specific, measureable goal, such as, "I'll bring an apple and almonds to work for a snack, so I can avoid the vending machine." If you stumble, you can troubleshoot to figure out why, and fix it the next time around.
Think positively. Health behavior experts note the more negative self-talk we engage in about ourselves, the harder it is to make positive health changes. Appreciate where you are now, and improve upon that.
Let go. Not meeting your healthy eating goals isn't a license to throw the whole plan out the window. If you've just eaten a candy bar and potato chips for lunch, let it go. Simply make a commitment that the very next time you eat, you'll make healthier choices.
(Ann Intern Med 2013;159:584–91)
Suzanne Dixon, MPH, MS, RD, an author, speaker, and internationally recognized expert in chronic disease prevention, epidemiology, and nutrition, has taught medical, nursing, public health, and alternative medicine coursework. She has delivered over 150 invited lectures to health professionals and consumers and is the creator of a nutrition website acclaimed by the New York Times and Time magazine. Suzanne received her training in epidemiology and nutrition at the University of Michigan, School of Public Health at Ann Arbor.