Is it OK to Go Nuts? Ask your heart…
Lauren

/

Jan 31st, 2017
Go Nuts for Your Heart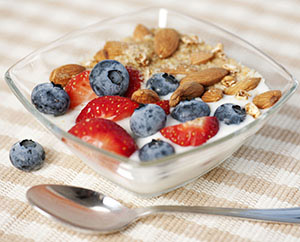 Nut consumers had significantly smaller waist circumference measures, 37.6 inches on average, versus 40 inches
While it may be true that
nuts
are high in fat and calories, research continues to show that they are nutritional gems. Adding a moderate amount of nuts into your diet may be one way to keep your heart healthy and your health at its best.
People need more nuts
Researchers used information from the National Health and Nutrition Examination Survey (NHANES) to study the connection between nut consumption and health in 13,292 adults, 19 years and older. They analyzed diet, other health habits, and markers of cardiovascular wellness, including blood pressure, waist circumference, height and weight, HDL ("good") cholesterol, and fasting glucose (blood sugar), to look for links between nuts and improved health.
People eating at least 1/4 of an ounce of nuts per day, on average, were classified as regular nut eaters. Each person's body mass index (BMI) was calculated from height and weight. A BMI of 25-to-29.9 places a person in the overweight category, and a BMI greater than 30 is considered obese. The researchers found:
Approximately 19% of adults 19 to 50 years old, and 21% of adults 51 years and older regularly consumed nuts.
Nut consumers had a lower BMI, 27.7 on average, versus an average BMI of 28.1 for non-nut eaters.
Nut consumers had significantly smaller waist circumference measures, 37.6 inches on average, versus a 40-inch waist circumference for those who didn't eat nuts.
Tree nut consumers weighed less—an average of 174 pounds—compared with non-consumers, who weighed 178 pounds.
Nut consumers were significantly less likely to have high blood pressure, abdominal obesity, high fasting glucose levels, and low HDL-cholesterol levels.
Noshing nuts may improve health
This study is observational, so cannot prove cause and effect. Still, the results agree with numerous other studies, which suggest that adding nuts into the diet can improve health in many ways. There are few downsides to eating more nuts, and our tips will help you find ways to add this healthy food into your daily routine:
Don't fear fat. Nuts are high in fat and calories, but it's healthy fat. Plus, studies consistently show that people who eat nuts are thinner than those who don't, so there's no reason to fear nuts because of their fat content.
Eat 'em early. Add nuts into your first meal of the day. Sprinkle a small handful of almonds, walnuts, cashews, pecans, or any nut you like into cereal, oatmeal, or yogurt.
Snack smart. Nuts are portable, and very satisfying. They fill you up, which may be one reason why people who eat them tend to be thinner. Carry a small baggie of nuts and dried fruit for an on-the-go pick-me-up.
Sprinkle in salad. Any type of salad can be tastier with a few nuts. Add them to fruit salads, green salads, or even tuna and chicken salads.
Nosh nut butters. Branch out from the usual peanut butter. Try almond butter, cashew butter, or other nut butters for a tasty treat.
(J Am Coll Nutr 2011;30:502–10)
Suzanne Dixon, MPH, MS, RD, an author, speaker, and internationally recognized expert in chronic disease prevention, epidemiology, and nutrition, has taught medical, nursing, public health, and alternative medicine coursework. She has delivered over 150 invited lectures to health professionals and consumers and is the creator of a nutrition website acclaimed by the New York Times and Time magazine. Suzanne received her training in epidemiology and nutrition at the University of Michigan, School of Public Health at Ann Arbor.