Organic vs. Conventionally Grown Spinach
Lauren

/

Feb 23rd, 2017
Organic Spinach Takes the Nutritional Cake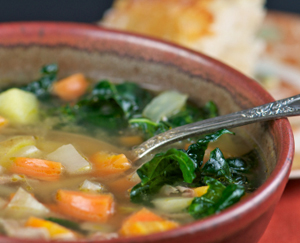 Organically grown spinach had significantly higher levels of vitamin C and total flavonoids
Want more good stuff in your spinach? According to a study in the Journal of Agricultural and Food Chemistry, compared with conventionally grown varieties, organic spinach has more vitamin C and health-promoting flavonoids, and smaller amounts of unhealthy nitrates.
Power veggie
Spinach is a great source of antioxidant vitamin C and bone-building vitamin K, as well as folic acid, carotenoids (like beta-carotene), and flavonoids. It also contains nitrates that are converted in the body to nitrites, which can lower the blood's oxygen-carrying capacity and form carcinogenic compounds. Oxalates in spinach inhibit the absorption of minerals like calcium and magnesium and may contribute to the formation of calcium oxalate kidney stones, although most of the oxalate is not absorbed.
More reasons to go organic
Avoiding pesticides is one reason that people cite for choosing organically grown foods. But there are other benefits to eating organic, like the nutritional content of the food.
To see how organically grown spinach compares to conventionally grown varieties, researchers from the University of California at Davis compared levels of vitamin C, flavonoids, nitrate, and oxalate in 27 different spinach varieties from two farms in Washington State. One crop was grown using synthetic fertilizer, but no pesticides. The other crop was certified organically grown with no synthetic fertilizers or pesticides.
All varieties of organically grown spinach had significantly higher levels of vitamin C and total flavonoids than conventionally grown varieties.
Conventionally grown spinach had up to four times more nitrates than organically grown varieties.
Levels of oxalate were similar between the two growing conditions, however, "Organic spinach containing higher vitamin C and flavonoids but less nitrate content would be more health-promoting than the conventional counterpart," the researchers commented.
Use your green for healthy greens
Some pesticides may affect the nervous and endocrine (hormonal) systems, while others may cause cancer. Children seem to be particularly sensitive to the effects of pesticides. Eating spinach raised conventionally but without pesticides, like the kind the researchers used in this study, would seem a reasonable choice if minimizing exposure is your primary goal. However, to be assured that your spinach has no pesticide residue, since that information is often not available, and to get the extra nutrients this study suggest it contains, spinach seems a wise use of your organic dollar.
(J Agric Food Chem 2012;60:3144-50)
Kimberly Beauchamp, ND, received her doctoral degree from Bastyr University, the nation's premier academic institution for science-based natural medicine. She co-founded South County Naturopaths in Wakefield, RI, where she practiced whole family care with an emphasis on nutritional counseling, herbal medicine, detoxification, and food allergy identification and treatment. Her blog, Eat Happy, helps take the drama out of healthy eating with real food recipes and nutrition news that you can use. Dr. Beauchamp is a regular contributor to Healthnotes Newswire.