Does Vitamin D Prevent Bone Fractures?
Lauren

/

Apr 26th, 2017
Does Vitamin D Prevent Fractures?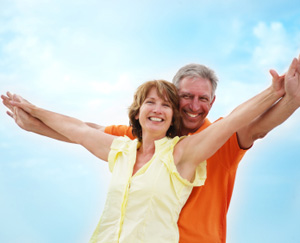 Older people can protect their bones by taking 800 to 2,000 IU per day of vitamin D
With more and more people adding vitamin D to their daily supplement program, it's important to look at the research as a whole to evaluate the risks and benefits. A 2012 review did just that and found that taking 800 to 2,000 IU per day of vitamin D protected people age 65 and over against hip and other non-vertebral fractures.
A look at the trials
The review, published in the New England Journal of Medicine, looked at data from 11 trials that included a combined total of more than 31,000 people. These trials compared vitamin D to placebo in people who were at least 65 years old and monitored participants for fractures over time. Vitamin D was given daily, weekly, or every four months, and in some of the trials, vitamin D was combined with calcium. The people in the trials were monitored for hip and non-vertebral (that is, not involving the spine) fractures.
It only helps if you take it
After analyzing the combined data from all of the studies, the reviewers found the following:
Pretrial vitamin D levels were generally low, with 30% of participants having clear deficiencies and 88% having levels considered to be suboptimal.
People whose actual intake of vitamin D was 792 to 2,000 IU per day had a significant, 30% reduction in hip fractures, and a 14% reduction in all non-vertebral fractures.
There was no reduction in any fracture risk in people whose actual intake was less than 792 IU per day.
Among people with the highest actual vitamin D intake, those who also received 1,000 mg per day or more of calcium had a higher risk of fracture than people who took less than 1,000 mg per day.
One key finding was that only actual intake mattered. When the reviewers looked at all the people assigned to vitamin D groups (including those that actually took their assigned amounts and those that potentially failed to), they did not see a statistically significant difference in fracture risk. This may mean that some people in vitamin D groups did not take their supplements, or that some people in placebo groups were inadvertently taking vitamin D. According to the authors of the current review, previous reviews that compared people in vitamin D groups to people in placebo groups and found no effect may not have considered actual intake.
How much to take
Based on these findings, supplementation with 800 to 2,000 IU per day of vitamin D appears to help prevent fractures. However, some research, including newer findings, suggests that taking more than 2,000 IU per day may increase the risk of falls, which would potentially increase the risk of fractures. In addition, taking vitamin D in intermittent, large doses (such as 60,000 IU once a month or 500,000 IU once a year) has been reported to increase the risk of falls. Talk to your doctor about the appropriate amount of vitamin D to take.
Interaction of vitamin D and calcium
According to the authors of the review, "Our data suggest that at the highest actual intake level of vitamin D, a smaller amount of calcium supplementation (less than 1,000 mg per day), as compared with a larger amount (1,000 mg per day or more), may be more beneficial in reducing the risk of fracture."
(N Engl J Med 2012;367:40–9)