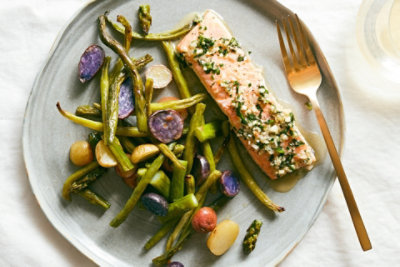 Salmon en Papillote with Spring Vegetables and Garlic-Herb Butter
If this dinner had a catchphrase, it would be "easy elegance." The ease comes from the brilliant use of the sheet pan: Potatoes and asparagus roast on one baking sheet while salmon steams in a foil parcel on another—a hands-free technique with super quick cleanup. A garlic and tarragon compound butter classes up the dish even more and adds extra punch. Once dolloped overtop, the butter melts into the fish and becomes the sauce for the entire plate.  
Total original price
* Estimated price based on adding all ingredients to cart.
Main Ingredients
1/2 stick unsalted butter
1/4 ounce tarragon
1/4 ounce chives
1 pound peanut potatoes
1 pound green beans
10 ounces asparagus
1 lemon
1 shallot
2 cloves garlic
1 1/4 pounds salmon
olive oil
kosher salt
black pepper
Cooking Instructions
Step 1
Preheat oven to 450°F. Place butter in a medium bowl and set aside to soften at room temperature. Roughly chop tarragon leaves, discarding stems. Rinse remaining produce. Halve potatoes. Trim and discard ends of green beans. Trim and discard woody bottoms of asparagus, then cut crosswise into 1-inch pieces. Thinly slice chives. Thinly slice lemon. Peel shallot and mince. Mince garlic. 
Step 2
On a baking sheet, toss potatoes, green beans, and asparagus with 2 tablespoons olive oil, .5 teaspoon salt, and pepper as desired. Arrange in a single layer, spacing apart as much as possible, and roast until beginning to soften, about 8 minutes (they will finish roasting with the fish). Remove from oven and set aside until Step 4.  
Step 3
While vegetables roast, place a large piece of foil on a clean, dry surface. Fold in half lengthwise to create a crease, then reopen. Pat salmon dry with paper towel, season with 1 teaspoon salt and pepper as desired, and arrange skin-side down on 1 side of crease. Top with lemon slices and drizzle over olive oil. Fold foil over salmon, bringing edges together. Tuck and crimp edges to create a tight seal (see recipe tip).
Step 4
Once vegetables are softened, place papillote on a separate baking sheet and transfer to oven alongside vegetables. Roast until vegetables are tender and salmon is cooked through, about 12 minutes more (see recipe tip). 
Step 5
While vegetables bake, add tarragon, chives, garlic, 1 tablespoon minced shallot, .125 teaspoon salt, and pepper as desired to bowl with softened butter and mash with a fork to combine (this is a great task for an eager kitchen helper!). Set garlic-herb butter aside until ready to serve. Use remaining shallot in another recipe, like a vinaigrette or vegetable sauté. 
Step 6
Use remaining downtime to set the table or relax with a glass of wine. Divide spring vegetables among serving plates. Carefully open papillote and remove and discard lemon slices (see recipe tip). Serve salmon with vegetables. Dollop garlic-herb butter over salmon and dig in! 
All recipe ingredients should be cooked to a safe internal temperature according to USDA guidelines. After preparing a recipe, please store any leftovers in the refrigerator.