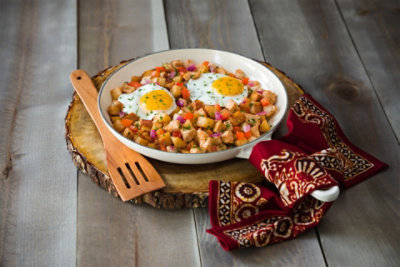 Breakfast Hash
This breakfast hash brings brunch to another level for game day or even for a quick and hearty mid-day meal!
Total original price
* Estimated price based on adding all ingredients to cart.
Main Ingredients
2 tablespoons vegetable or olive oil
1 cup leftover roast beef, pork roast or turkey breast, medium-dice
1/2 cup red bell pepper, medium-dice
1/2 cup red onion, medium-dice
1 tablespoon garlic, minced
2 cups red potato - roasted, cooled, and cubed into 1/2 inch pieces
2 tablespoons Lucerne® unsalted butter
3 tablespoons Worcestershire sauce
1/4 cup Tabasco
3 tablespoons ketchup
1 tablespoon brown sugar
4 O Organics® eggs, pan-fried (2 eggs per serving)
Cooking Instructions
Step 1
Prepare Worcestershire sauce; whisk together Worcestershire sauce, tabasco, ketchup, and brown sugar. Reserve.
Step 2
Heat a large non-stick sauté pan over medium-high heat, add butter and oil.
Step 3
Add onions, celery, garlic, peppers, potatoes, and diced beef/pork/turkey to sauté pan, heat thoroughly.
Step 4
Add Worcestershire mixture to sauté pan and mix well to coat all ingredients with sauce.
Step 5
Continue to cook until sauce is thickened; taste for seasoning and adjust, as necessary.
Step 6
To serve; divide hash between 2 plates, and top each with 2 fried eggs.
All recipe ingredients should be cooked to a safe internal temperature according to USDA guidelines. After preparing a recipe, please store any leftovers in the refrigerator.