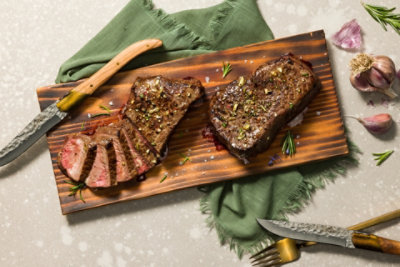 Cedar Plank Steak with Sweet Honey-Rosemary Butter
Style and flavor come together in one of our favorite grilling recipes. Soak a cedar plank (yes, we have those!) in water for at least two hours. Then lay the plank on the grill until it begins to smoke. Place the marinated steaks on the plank to infuse the meat with a smoky, tangy flavor and seal in moisture. Drizzle with our Sweet Honey-Rosemary Butter and serve.
Total original price
* Estimated price based on adding all ingredients to cart.
Marinade
3 Tbs extra virgin olive oil
2 sprigs fresh rosemary (leaves stripped)
1 tsp crushed red chili flakes
1 tsp fennel seed toasted
3 garlic cloves (minced)
zest of 2 lemons
Sweet Honey-Rosemary Butter
1/4 cup unsalted butter
1 Tbs honey
1 tsp fresh rosemary (chopped)
1 Tbs cider vinegar
cooking juices (reserved from steak while resting)
1 garlic clove (minced)
Steak
2 O Organics® 6-ounce steaks (such as tenderloin steaks or strip steaks)
1 Cedar Plank (soaked in water for 2 hours)
pinch kosher salt
pinch ground black pepper
Cooking Instructions
Step 1
Combine marinade ingredients in mixing bowl. Dress steaks and marinate chilled (up to 24 hours).
Step 2
One hour prior to cooking, remove steaks from refrigerator and bring to room temperature.
Step 3
Prepare a medium-hot grill or broiler. Coat cooking surface with oil to prevent sticking. Place moistened cedar plank (soaked in water 2 hours) on grilling/ broiling surface, heating until smoke begins. Season steak with salt and pepper, and place onto grill/ broiler, cook 2 ½ minutes per side or until nicely marked.
Step 4
Transfer steaks onto cedar plank, cover grill/ broiler and finish cooking for 5-7 minutes. Remove steak and allow to rest for 4-5 minutes. Reserve any juices released from the steak.
Step 5
Prepare butter, warm honey and rosemary in microwave for 10-15 seconds. Add warmed honey-rosemary mixture to butter, add cider vinegar, seasonings, any reserved cooking juices, mix well and reserve.
Step 6
Slice steaks on bias at a 45-degree angle. Transfer to serving platter; drizzle with Sweet Honey-Rosemary Butter, serve and enjoy!
All recipe ingredients should be cooked to a safe internal temperature according to USDA guidelines. After preparing a recipe, please store any leftovers in the refrigerator.