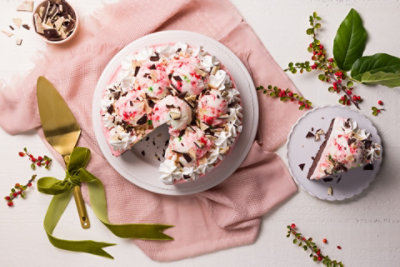 Chocolate Peppermint Ice Cream Cake
Indulge in classic chocolate and peppermint holiday flavors with this delicious Chocolate Peppermint Ice Cream Cake! With just 30 minutes of prep time, this recipe is perfect to prepare the day before your holiday event. Celebrate the season with this festive dessert!
13 hour, 30 mins
Total cook time
Total original price
* Estimated price based on adding all ingredients to cart.
Main
1 package Open Nature® gluten-free chocolate cake & cupcake mix, prepared according to package directions
2 1.5-quart packages Signature SELECT® peppermint light ice cream
1 package Signature SELECT® peppermint bark, broken into bite-sized pieces
1 aerosol can Lucerne® Seasons peppermint whipped topping
Cooking Instructions
Step 1
Line the bottom of a 9" spring form pan with parchment paper. Spray with non-stick cooking spray. Set aside. Prepare cake mix and bake according to package directions. Let cool on counter in cake pan, about 1 hour. Place in freezer for 4 hours, up to overnight.
Step 2
Allow 1 container of ice cream to soften on counter for 30 minutes. Carefully spread ice cream evenly on top of cake. Use second container of ice cream to add scoops to the top of the ice cream layer, leaving 1-inch of space on the edges. Garnish edges with whipped topping and peppermint bark. Loosely cover with foil and return to freezer for 8 hours, up to overnight.
Step 3
Remove cake from freezer and loosen spring form pan ring. Place cake on a plate. Cut into slices and serve.
Step 4 :: Helpful Hints
For soft cake texture, be careful not to overbake the cake.
Step 5 :: Helpful Hints
If the ice cream is too soft after spreading the first ice cream container, pop back in the freezer for 30 minutes before adding the scoops and garnish.
Step 6 :: Helpful Hints
We used about 2/3 of the second container of ice cream for the scoops on this cake, so not all of the ice cream may be used.
Step 7 :: Helpful Hints
Removing the spring form pan ring might take a few minutes. To help this process, use a flat edged knife or an off-set spatula to loosen the cake before removing the ring completely.
Step 8 :: Helpful Hints
Signature SELECT® pumpkin pie ice cream and whipping cream could be substituted in this recipe for a different festive flavor profile—just substitute dark chocolate in place of the peppermint bark.
All recipe ingredients should be cooked to a safe internal temperature according to USDA guidelines. After preparing a recipe, please store any leftovers in the refrigerator.