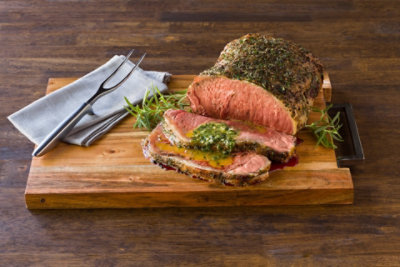 Garlic & Herb New York Roast with Brussels Sprouts
Mix up the menu this holiday season with this savory Garlic & Herb New York Roast with Brussels Sprouts. With just 15 minutes of prep time, this delicious all-in-one meal is perfect to enjoy on busy fall and winter evenings.
2 hour, 45 mins
Total cook time
Total original price
* Estimated price based on adding all ingredients to cart.
Main Ingredients
5 cloves garlic
1/4 cup Italian parsley leaves
2 tablespoons rosemary leaves
1 cup unsalted butter
2 teaspoons kosher salt, divided
1 teaspoon ground black pepper, divided
7-pound New York strip loin roast
2 1/2 pounds Brussels sprouts, cut in half lengthwise
1/2 teaspoon minced rosemary
Optional Garnish
1/2 cup toasted pecans, chopped
1/2 cup pomegranate arils
Cooking Instructions
Step 1
Using a food processor, blend together garlic, parsley, rosemary and thyme. Add 1 teaspoon salt, 1/2 teaspoon pepper and butter. Pulse until butter and herbs are fully incorporated. Divide butter and reserve half for service.
Step 2
Pat roast dry with paper towels. Rub roast with half of the herb butter. Let rest on counter for 1 hour. Toss Brussels Sprouts with olive oil and remaining salt and pepper.
Step 3
Preheat oven to 450°. Place meat, fat side up, on rack in a roasting pan. Roast for 15 minutes. Reduce oven temperature to 350°and add Brussels Sprouts to the bottom of the roasting pan. Roast until temperature of 135° is reached for medium-rare, about 45-55 minutes. Remove from oven and let rest for 20 minutes, loosely tented with aluminum foil. Slice and top each piece with a dollop of reserved butter. Garnish Brussels sprouts with pecans and pomegranate arils. Serve.
Step 4 :: Helpful Hints
Don't like medium rare? These are the temperatures for other levels of doneness: rare: 125°, medium: 145°, medium well: 150°and well: 160°. Allow the roast to rest regardless of doneness for moist and delicious bites.
Step 5 :: Helpful Hints
Use a thermometer to be sure proper temperature is reached when roasting any protein.
All recipe ingredients should be cooked to a safe internal temperature according to USDA guidelines. After preparing a recipe, please store any leftovers in the refrigerator.