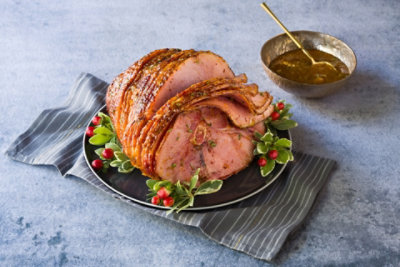 Maple-Peach Glazed Spiral Ham
With just 10 minutes of prep and five ingredients, this recipe is easy to prepare. With thyme, grainy mustard and peach preserves, this recipe will elevate your favorite holiday ham! Celebrate the season and serve up refreshing flavors.
2 hour, 25 mins
Total cook time
Total original price
* Estimated price based on adding all ingredients to cart.
Main Ingredients
8-9 pound spiral cut ham
1-2 cups water
1 cup peach preserves
1/2 cup pure maple syrup
2 tablespoons grainy mustard
1 tablespoon thyme leaves
Cooking Instructions
Step 1
Preheat oven to 300°. Pour 1/4-inch water into roasting pan. Insert toothpicks into front of ham to keep slices together. Tent with foil and let heat for 1 ½ hours.
Step 2
Whisk to combine remaining ingredients, reserving half of the glaze for service. Glaze ham every 5-10 minutes during the last 30 minutes of cooking. Let rest 15 minutes, loosely covered, before serving. Remove toothpicks and serve.
Step 3 :: Helpful Hints
Spiral ham is precooked, so the temperature you are looking for when reheating is 135°.
Step 4
Ham can also be grilled using indirect heat. Just be sure to wrap well before basting to allow natural juices to form and not evaporate.
All recipe ingredients should be cooked to a safe internal temperature according to USDA guidelines. After preparing a recipe, please store any leftovers in the refrigerator.