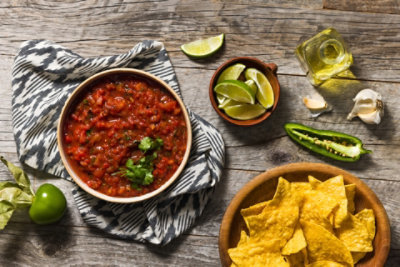 Roasted Tomato Salsa
Homemade salsa is a vibrant, flavorful summer favorite made with seasonal ingredients. Add new flavor to yours by making your salsa with roasted tomatoes. Serve with your favorite tortilla chips at your next barbecue or fiesta or try topping your morning eggs.
Total original price
* Estimated price based on adding all ingredients to cart.
Roasted Roma Tomatoes
12 roma tomatoes (diced into 3/4-1 inch pieces)
5 tablespoons extra virgin olive oil (divided)
1 teaspoon kosher salt
pepper to taste
Roasted Tomato Salsa
6 tomatillos (washed and cut in half)
1/2 medium onion (cut into 1 inch chunks)
2 cloves garlic
1 jalapeño (seeds removed for less spicy salsa)
2 tablespoons fresh lime juice
1 tablespoon lime zest
3 tablespoons fresh cilantro leaves
1/2 teaspoon kosher salt
Cooking Instructions
Step 1
Preheat oven to 450 degrees. 
Step 2
On a rimmed baking sheet combine tomatoes, 3 tablespoons olive oil, salt and pepper.  
Step 3
Bake for 40-45 minutes. Remove from oven and let cool.  
Step 4
Place in desired storage container and drizzle additional 2 tablespoons olive oil. Store in refrigerator until use. Makes about 2 cups.
Step 5
Preheat broiler on low.
Step 6
On a rimmed baking sheet, place tomatillos and broil for 5 minutes.  
Step 7
Add onion, garlic, and jalapeño. Broil additional 10 minutes. If ingredients begin to burn, mix on sheet.
Step 8
Remove from oven and let cool.  
Step 9
Add all ingredients to food processor or blender and pulse until desired consistency. Serve. 
All recipe ingredients should be cooked to a safe internal temperature according to USDA guidelines. After preparing a recipe, please store any leftovers in the refrigerator.