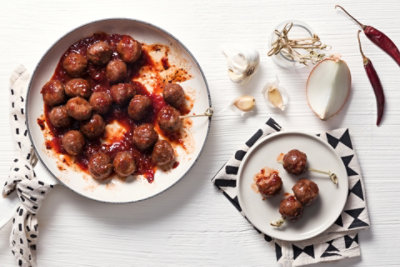 Sweet 'n' Sour Lean Mean Meatballs
Bite-sized meatballs are always a crowd pleaser! Make these for your next party or event and get ready for cheers! Leave them in a slow cooker set on low to keep them warm for the whole event.
Total original price
* Estimated price based on adding all ingredients to cart.
Main Ingredients
1 pound extra lean grass fed ground beef (or extra lean ground beef)
2 slices whole wheat bread (finely chopped or pulse in mini food processor until fine crumbs form)
1 large egg
2 tablespoons minced onion
2 tablespoons lowfat milk
1 1/2 teaspoons minced garlic
1/2 teaspoon salt
Dash of freshly ground pepper
2 to 6 tablespoons nonalcoholic beer, beef broth or water (optional)
1/2 cup Store brand chili sauce (or Heinz)
½ cup red currant jelly (cherry preserves can be substituted if necessary)
Cooking Instructions
Step 1
In mixing bowl, combine the first 8 ingredients on lowest speed (or mix well with wooden spoon). 
Step 2
Form mixture into 40 bite-size-meatballs (about a heaping teaspoon each). Spray a large nonstick frying pan with cooking spray and heat over medium-high heat.
Step 3
When the pan is hot, brown the meatballs. Cover and cook 5 minutes. Turn the meatballs over, adding the beer or broth if necessary to prevent sticking. Cover, turn down the heat, and simmer until meatballs are cooked though (about 5 minutes).
Step 4
While the meatballs are simmering, combine the chili sauce and jelly in a small bowl and pour over the meatballs in the frying pan. Simmer gently for about 10 minutes, stirring and basting the meatballs frequently until the sauce thickens nicely.
Step 5
If you want to keep the sauce separate, combine the chili sauce and jelly in a small saucepan and simmer, stirring often, for about 5 minutes or until the sauce is hot, blended and slightly thickened.
Step 6
If desired, put the sweet and sour mixture and the meatballs in a slow cooker set on LOW and this will keep the dish hot for the duration of the party.
All recipe ingredients should be cooked to a safe internal temperature according to USDA guidelines. After preparing a recipe, please store any leftovers in the refrigerator.