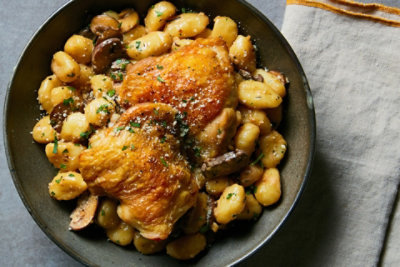 Roasted Chicken Thighs over Creamy Mushroom Gnocchi
For this hearty, cozy dish, Chef Grace was inspired by the flavors of chicken and dumplings. While chicken thighs roast in the oven until crispy, you'll boil potato gnocchi—a tasty, quicker alternative to making dumplings from scratch. Enlist a kitchen companion to stir the gnocchi with a decadent sauce of mushrooms, garlic, rosemary, heavy cream, and Parmesan, then garnish with fresh parsley.
Total original price
* Estimated price based on adding all ingredients to cart.
Main Ingredients
8 chicken thighs
10 ounces cremini mushrooms
1/8 ounce parsley
1/8 ounce rosemary
4 cloves garlic
2 pounds gnocchi
1 cup Marsala wine
4 ounces heavy cream
1 ounce grated Parmesan cheese
olive oil
kosher salt
black pepper
Cooking Instructions
Step 1
Preheat oven to 450ºF (see recipe tip). Line a baking sheet with foil. Pat chicken very dry with paper towel (this will help the skin crisp up in the oven) and place on prepared baking sheet. Season all over with 1 teaspoon salt and pepper as desired, then arrange skin-side up. Roast until skin is crisp and chicken is cooked through, 25-35 minutes (see recipe tip).
Step 2
While chicken roasts, bring a large pot of water to boil over high heat. Wipe mushrooms clean with a damp paper towel and thinly slice (wiping them clean instead of rinsing prevents them from absorbing water—they won't brown well if they're too wet). Rinse remaining produce. Roughly chop parsley leaves, discarding stems. Strip rosemary leaves, discarding stems, then mince. Mince garlic.
Step 3
Heat 2 tablespoons olive oil in a large high-sided pan over medium-high heat. When oil is shimmering, add mushrooms and sauté, stirring, until beginning to soften, 6-7 minutes. Add rosemary and garlic; cook until rosemary and garlic are fragrant and mushrooms are golden, 4-5 minutes more. Season with .5 teaspoon salt and pepper; remove pan from heat.
Step 4
While mushrooms cook, over a clean, dry surface, use your hands to gently separate gnocchi. Season boiling water generously with salt. Stir in gnocchi and cook until tender and floating to the surface, 2-3 minutes. Reserve .5 cup gnocchi cooking water (it's easiest to reserve this water in a liquid measuring cup, if you have one), then drain and return to pot, off heat.
Step 5
Return pan with mushrooms to medium-high heat. When oil is shimmering, add Marsala wine; cook, scraping up browned bits from pan, until liquid is reduced by half, 4-5 minutes. Add cream; cook until slightly thickened, 1-2 minutes. Reduce heat to medium. Add cooked and drained gnocchi, half of Parmesan, and half of parsley; toss to coat. Adding 1 tablespoon at time, stir in reserved gnocchi cooking water until sauce clings to gnocchi.
Step 6
Taste creamy mushroom gnocchi and season with salt and pepper as desired, then divide among serving plates. Top with roasted chicken thighs. Garnish with remaining parsley and remaining Parmesan. Enjoy!
All recipe ingredients should be cooked to a safe internal temperature according to USDA guidelines. After preparing a recipe, please store any leftovers in the refrigerator.