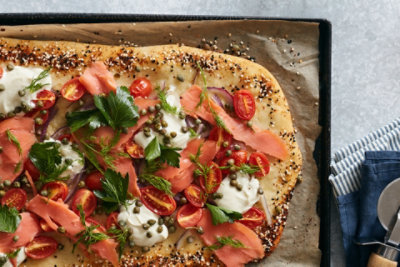 Smoked Salmon Pizza with Whipped Goat Cheese, Capers, and Tomato
Smoked salmon pizza is a uniquely New York-centric dish. Inspired by its flavors, Chef Elana has recreated it in this Popular Recipe. Mimicking the flavors of an everything bagel with cream cheese and lox, she's slathered pizza dough with creamy goat cheese and topped it with smoked salmon, capers, and tomatoes. Finished with lemony dill and parsley, this multifaceted dinner has become a fast favorite.
Total original price
* Estimated price based on adding all ingredients to cart.
Main Ingredients
1 1/2 pounds pizza dough
1/4 ounce dill
1/4 ounce parsley
1 pint grape tomatoes
1 lemon
1 red onion
1/4 cup flour
1 teaspoon shichimi togarashi
1/2 teaspoon black sesame seeds
2 teaspoons sesame seeds
4 ounces crumbled goat cheese
1/2 cup heavy cream
6 ounces smoked salmon
1/4 cup capers
2 parchment papers
olive oil
kosher salt
black pepper
Cooking Instructions
Step 1
Preheat oven to 425°F. Let pizza dough soften at room temperature (the longer you let it sit at room temperature, the easier it'll be to roll out). Rinse all produce. Pick dill and parsley leaves, discarding stems. Halve tomatoes. Halve lemon. Peel onion and halve. Thinly slice half, place in a small bowl, and toss with 1 tablespoon olive oil and .125 teaspoon salt. Save remaining onion for another recipe (see Recipe Tip).
Step 2
Remove goat cheese from refrigerator and set aside at room temperature (this will make it easier to whip!). Sprinkle flour onto a clean, dry surface, coating a rolling pin or your hands with a thin layer. Divide pizza dough into 2 equal pieces. Roll or stretch doughs into rectangular shapes, rotating frequently and working from center to edges, until doughs are .25-inch thick (see Recipe Tip). Line 2 baking sheets with parchment paper.
Step 3
Rub each parchment with 1 teaspoon olive oil, then add pizza doughs, gently stretching to reach edges of baking sheets. Rub 1 tablespoon olive oil over each. Add shichimi togarashi (it's a bit spicy—skip or use half for less heat) to pouch with spice mix, shake to combine, and sprinkle mixture in a 1-inch border around edges of doughs. Scatter over tomatoes and sliced onion in centers. Bake until crusts are crisp and slightly browned, 15-18 minutes.
Step 4
While pizzas bake, in a medium bowl, whisk together goat cheese and heavy cream until smooth. Season with .25 teaspoon salt and pepper as desired and set aside.
Step 5
In a small bowl, combine dill, parsley, and juice of .5 lemon and toss to coat. Season with .125 teaspoon salt. Use remaining lemon to brighten a glass of water.
Step 6
Remove pizzas from oven and dollop over whipped goat cheese. Top with smoked salmon, and scatter over capers and herb salad. Cut into slices and enjoy with fellow pizza-lovers!
All recipe ingredients should be cooked to a safe internal temperature according to USDA guidelines. After preparing a recipe, please store any leftovers in the refrigerator.