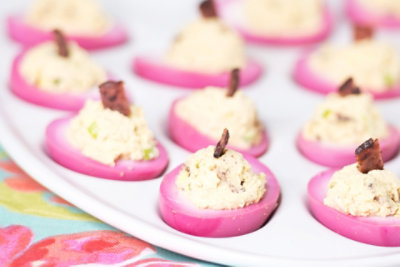 Beet & Bacon Deviled Eggs
This is an easy rendition of beet-pickled deviled eggs…what's easier than opening a can of pickled beets and using the liquid to dye and flavor your hard-boiled eggs? Turkey bacon (or center cut pork bacon) is the star of the light but flavorful egg filling made with plain non-fat Greek yogurt and extra virgin olive oil instead of mayonnaise.
3 hour, 20 mins
Total cook time
Total original price
* Estimated price based on adding all ingredients to cart.
Main Ingredients
2, 15 ounce cans pickled beets (just the liquid from the can is used)
8 hard boiled eggs (cooled and shells removed)
3 slices turkey bacon (center cut pork bacon can be substituted)
1/4 cup plain non-fat Greek yogurt
1 tablespoons extra virgin olive oil
2 teaspoons Dijon mustard
1 tablespoon finely chopped scallions or green onions (white and part of green)
2 pinches freshly ground black peppe (add more to taste)
Salt to taste (optional)
Cooking Instructions
Step 1
Open the cans of pickled beets and pour the liquid into a medium glass bowl. You can reserve the beets for another dish. Add the shelled hardboiled eggs, stir, and refrigerate for about 3 hours (stirring occasionally) for a brighter magenta color. For a deeper color, let them sit in the liquid overnight.
Step 2
When ready to assemble deviled eggs, remove the eggs from the pickled beet liquid and let them dry on a paper towel lined plate. Discard the beet liquid. Cut the eggs in half lengthwise and remove yolks; set aside.
Step 3
Coarsely chop the turkey bacon or center cut bacon and cook in a medium nonstick skillet over medium heat until browned and crisp. Remove bacon pieces with slotted spoon or spatula and place them on paper towels.
Step 4
Add Greek yogurt to small bowl and drizzle in the olive oil while stirring well with a fork. Add in the egg yolks, mashing them against the side of the bowl with the fork, along with the Dijon mustard, scallions, black pepper and salt if desired.
Step 5
Reserve one piece of bacon per each deviled egg half for garnish and stir the rest of the bacon bits into the deviled egg mixture. Spoon some of the egg mixture into each egg white half. Top with a piece of bacon! Cover and refrigerate until ready to serve, enjoy!
All recipe ingredients should be cooked to a safe internal temperature according to USDA guidelines. After preparing a recipe, please store any leftovers in the refrigerator.